Clever innovation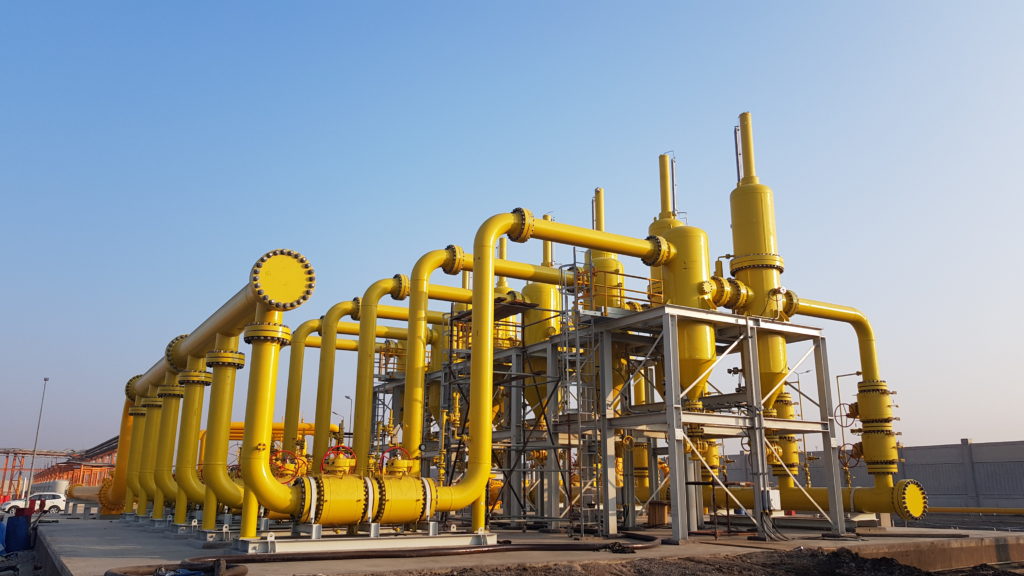 Thanks to a clever innovation of the engineers at Eindhoven based Petrogas Gas-Systems B.V. the power plant at Besmaya near Baghdad, Iraq can keep on supplying electricity. The plant consumes natural gas to produce power for the city of Bagdad. As gas sources are becoming more and more depleted, increasing amounts of contaminants make their way into the gas pipelines. Some of these contaminants react with the pipe material itself and form a chemical reaction product called "black Powder", a substance with particularly abrasive properties which are also prone to static charge, causing it to 'stick' to moving parts of valves, compressors and gas turbines, severely damaging these in the process.
In early 2019 Petrogas delivered the natural gas conditioning equipment to the Besmaya site via the ECP contractor, Mass Group Holding. However, during the commissioning phase black powder was encountered in the gas supply. Petrogas proposed its innovative black powder separation system to solve this problem and subsequently it was installed and commissioned on-site in Iraq.
'Thanks to our patented solution, the life span of the system increases from mere years to 25 or 30 years', says Jacob van den Pol, commercial director at Petrogas. 'Without our invention the plant owner had to exchange filter cartridges every couple of hours as they become saturated with the black powder extremely fast. This cost hundreds of thousands of euros per year. On top of that, the problem only increases over time, as the gas well resources become more depleted.'
Petrogas, an independent subsidiary of Dutch technical service provider Mourik, designed the Black Powder Removal System in partnership with a Dutch supplier of magnets. The system captures and removes the black powder before it reaches the conventional filtration system. About 200 kilograms a day are separated from the gas stream, an unheard amount for this phenomenon.
Van den Pol: 'We have found a way to capture the black powder without the large consumption of filter cartridges associated with standard filter systems. The powder is very fine and has magnetic properties. The latter we use to our advantage by utilizing magnets in a special array. That may sound easy, but it came at the expense of many, many hours of research and engineering to make it actually work.'
With the patent Petrogas is one of a handful of companies worldwide that have some form of a solution for this problem, yet this one features a fully automated release mechanism to empty the magnets. According to Van den Pol, more orders are in the pipeline; 'Many industrial consumers of natural gas will sooner or later encounter the black powder phenomenon. Worldwide, gas well resources are becoming depleted and more contaminants are reaching the surface. We are already receiving a lot of attention with our freshly patented system and we are looking forward to reaping the rewards of finding a truly viable solution to a problem that is becoming more prevalent in the Power Production Sector.'